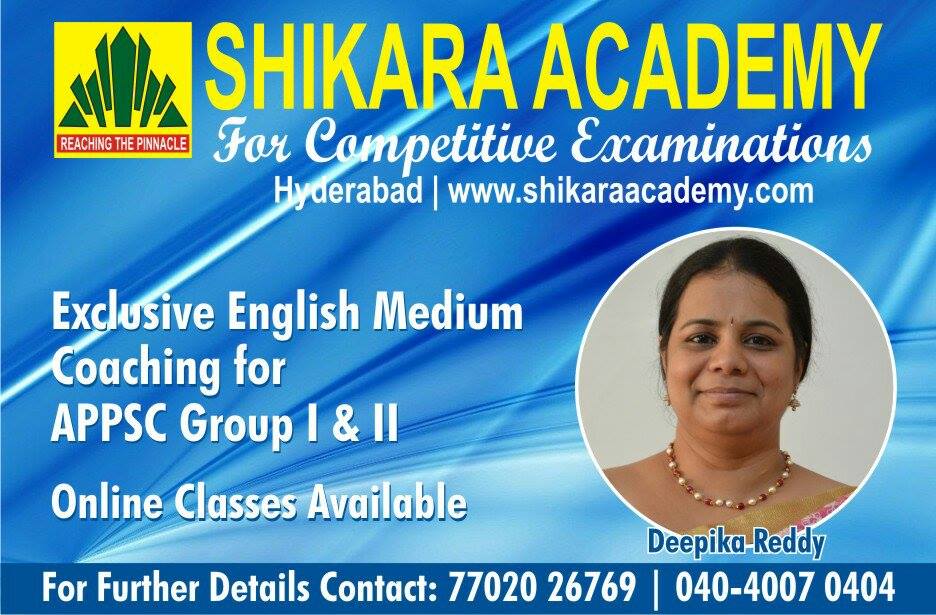 Shikara Academy in Hyderabad is experienced in training candidates for the success in Group exams from both states those are Andhra Pradesh and Telangana. There are batches ready to commence online as well as classroom sessions for the APPSC Group I. The entire APPSC Group 1 syllabus covered through experts in a way candidates can be successful in the upcoming APPSC Group 1 exam. The Group 1 notification in AP is gearing up applicants to study well for the examination. Here, your trusted coaching expert for this purpose with extensive experience is definitely Shikara Academy. Many experienced tutors are arranged in a way candidates can get thorough training on the entire syllabus from our institution.
Shikara Academy has been a reliable place in Hyderabad for APPSC Group 1 training for many years. This APPSC Group 1 Mains Syllabus 2019 is already prepared well by us and arranged with the best trainers too. It is very often a frightening thing for the candidates to prepare for the APPSC Group 1 syllabus, which is definitely enormous. Here, Shikara Academy wants to stand as a great help and support for you by offering classroom sessions and online training. It is made convenient for you in a way to take up training and to prepare for the entire syllabus. Definitely, APPSC Group 1 online training is a convenient way to prepare for these prestigious examinations too.
APPSC Group 1 is no longer a challenging or tough task by taking up training from the experienced Shikara Academy. Our well-experienced trainers always make it sure that the training will be ample help for the aspirants. Appearing Group 1 is the greatest opportunity and makes it successful by availing suitable training instead of wasting the opportunity. Reach us any time at Shikara Academy online and our staff would be glad to be of help to you by offering ample information on the training program. Our training program and the material supplied would be a good resource for the aspirants to be successful in APPSC Group 1 examinations.