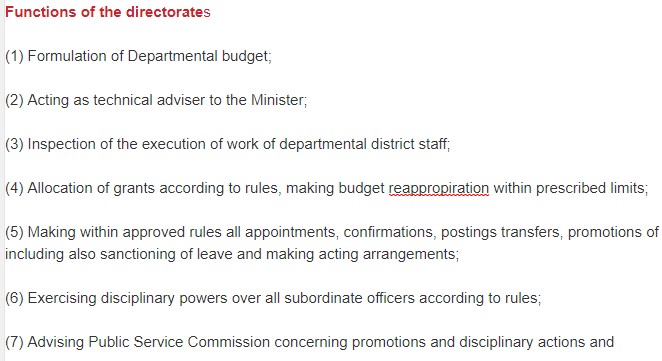 Q. Governance at State and District levels-Secretariat and Directorates and their relationships
The work relating to the initiation and formulation of policies of the government requires decentralization of executive directions and the establishment of field agencies.
For the most part of the substantive work handled by the State Secretariat, therefore, there exist executive departments, varying in size and powers which are responsible for providing executive directions required in the implementation executive departments serve as repository of technical opinion and advise the secretariat departments on technical aspects of questions dealt with by them.
Powers of a Head of the Department, both administrative and financial, are defined in financial rules, the civil services rules, the budget manual and other codes.
These rules indicate the category of cases that must to up to the head of department for final orders, the administrative and financial powers vested in various heads of departments and  the heads of offices below them and cases which have to be referred to the State government at the headquarters for orders.
Heads of departments/directorates
Heads of departments are officers who are charge of the actual administration of specific services or administration and execution of projects. The State Government exercises control over the working of heads of departments through "administrative departments" of the secretariat.
The relation between the Secretary to the Government and Head of Department is based on the following principles.
(1) Policy making is the primary responsibility of the Secretariat, implementation of policy is that of the Department, and
(2) The Head of the Department subject to the rules governing the conditions of service, is given fullest control over the personnel under him.
Head of the Department is a specialist and the Secretary who supervises his work is a generalist civil servant. The Secretaries are the administrative advisers and assistants of the Ministers; Heads of Departments are their executive instruments.
The Secretaries are the "ears and eyes" of the Ministers, the Heads of Departments are their "Hands".
Functions of the directorates
(1) Formulation of Departmental budget;
(2) Acting as technical adviser to the Minister;
(3) Inspection of the execution of work of departmental district staff;
(4) Allocation of grants according to rules, making budget reappropiration within prescribed limits;
(5) Making within approved rules all appointments, confirmations, postings transfers, promotions of all subordinate officers including also sanctioning of leave and making acting arrangements;
(6) Exercising disciplinary powers over all subordinate officers according to rules;
(7) Advising Public Service Commission concerning promotions and disciplinary actions and
(8) Sanctioning the attendance of officers at conference other than inter-state or government of India conferences.