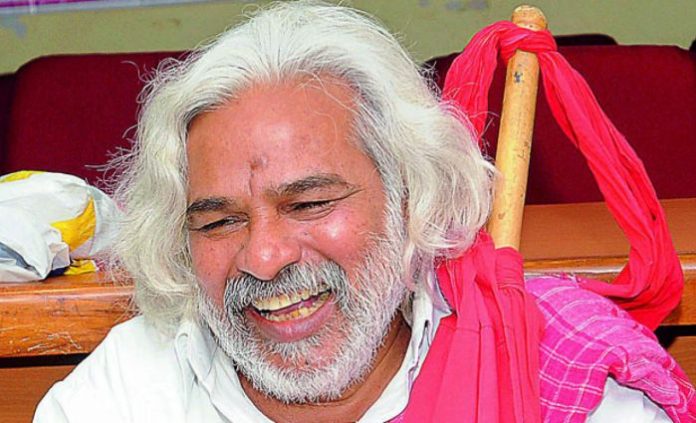 Telangana Poets
1. Gaddar
Gummadi Vittal Rao, popularly known as Gaddar (born 1949), is a poet, revolutionary Telugu balladeer (a poem or song narrating a story in short stanzas. Traditional ballads are typically of unknown authorship, having been passed on orally from one generation to the next.) and local Naxalite activist from what is now the state of Telangana. The name Gaddar was adopted as a tribute to the Pre-independence Gadar party which opposed British colonial rule in Punjab during the 1910s
Gadar's song "Amma Telanganama Akali kekala gaanama" has been selected as the state song of Telangana.
2. Suddala Hanmanthu 
His Telugu folk song, Palletoori Pillagada, mobilised the people of his region. It was included in the movie, Maa Bhoomi (1980)

He was born in Paladugu village, Mothkur mandal, Yadadri bhuvanagiri district, Telangana.

3. Goreti Venkanna 
 He was born in Gowraram Village, Nagarkurnool District, Telangana. Most of his childhood was spent in singing the native folk songs describing the lives of peasants and the farmers of Telangana. He is a popular Indian poet and folk singer. He became popular after his song "Palle Kanneru Peduthundo" in Kubusam Telugu movie had moved the masses.

Books of Venkanna
Eku naadam Motha
Rela Poothalu
Alasandra Vanka
Pusina Punnam
Awards
2006 Kala Ratna or Hamsa Award for Literature from AP State Government[4]
2016 Kaloji Narayana Rao Award from Telangana State Government.
4. Nandini Siddha Reddy
born 12 June 1955 is a Telugu language writer and poet whose efforts were instrumental in enlightening people of Telangana about their neglected language and culture. His song Nageti salallo na telangana in the movie Veera Telangana which mirrors and illustrates the cultural and social life of Telangana won the Nandi Award for 2010.
Nandini Sidha Reddy has been appointed as First Chairman of Telangana Sahitya Academy on May 2, 2017. He headed Core Committee that Organized World Telugu Conference held in Hyderabad from 15–19 December 2017.
He is a Member in the Telangana State Public Service Commission (TSPSC) Syllabus review committee.
He is also a member of Telangana State Textbooks Review Committee.
Nandini Siddha Reddy is the founder President of 'Manjira Rachayitala Sangham' (MARASAM).
Awards
Vishista Puraskaram – Potti Sriramulu Telugu University – 2016
Nandi Award – Best Lyricist – Song:'Nageti salallo na Telangana' Movie: Veera Telangana – 2011
Sadashivudi Award – 2012
Vishwakala Peetham – Oka Badha gadhu – 2009
Dasharathi Award – Bhoomi Swapnam – 1988
Free verse front Award – Bhoomi Swapnam – 1987
Awards Rejected
Telugu University- Best Poet- Pranahitha
Award rejected in protest to then Andhra Pradesh Government's policies against the farmers.