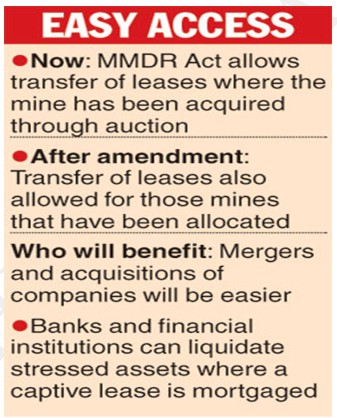 Current Affairs 20 March 2021
State resolutions on Central laws are fine

The court was hearing a PIL (Public Interest Litigation) filed by a Rajasthan based NGO, Samata Andolan Samiti.
Which says " State Assemblies, such as of Rajasthan, Kerala, Punjab and West Bengal, have no business passing resolutions against Central laws that come under the Union List of the Seventh Schedule of the Constitution"
Background: The hearing mostly focused on the resolution passed by the Kerala Assembly on December 31, 2019, criticizing CAA as a law violating the right to equality.
PIL (Public Interest Litigation)

Any citizen can file a public case by filing a petition:

Under Article 32 of Indian Constitution, in the Supreme Court.
Under Article 226, in the High Court.
Under Article 133, in the Court of Magistrate.

PIL is to make justice available to the poor and the marginalized.
PIL democratize the access of the justice to all. Any citizen or organization who is capable can file petitions on behalf of those who cannot or do not have the means to do so.
The aim of PIL is to give the common people access to the courts to obtain legal address.

Seventh Schedule of the Constitution of India

The 7th Schedule of the Constitution of India defines and specifies allocation of powers and functions between Union and States.
Article 246
Contains 3 Lists
Union List

Defence
Army
International Relations
Ports
Railways
Highways
Communication
State List

Public order
Police
Public health and sanitation
Hospitals and dispensaries
Betting and gambling
Concurrent List

Education
Forest
Trade Unions
Marriage
Adoption
Succession
Delhi Undermined

Bill to amend GNCTD Act is a rollback of the notion of representative government
GNCTD – The Government of National Capital Territory of Delhi Act, 1991

GNCTD envisages a collaborative structure that can be worked only through constitutional trust
As per the Act 'The Lieutenant Governor has not been entrusted with any independent decision making power, He has to either act on the 'aid and advice' of the Council of Ministers, or he is bound to implement the decision taken by the President on a reference made by him'
The guiding principle is that the elected government should not be undermined by the unelected administrator

The Bill seeks to declare that in the context of legislation passed by the Delhi Assembly, all references to the 'government' would mean the 'Lieutenant Governor'
Quad Summit and 3C's Working group

Recently, the Prime Minister addressed the First summit of the leaders of the QUAD.
The meeting was hosted by the USA on a virtual platform
Quad

QUAD is a grouping of India, USA, Australia, Japan which aims to safeguard the interests of democratic nations in the Indo-Pacific region and address global challenges
Established in 2007
In 2020, all four QUAD countries took part in the Malabar Exercise

Malabar Exercise is an annual naval exercise between the Navies of the QUAD countries, which is held alternatively in Indian and Pacific Oceans

3C's working group established by QUAD

COVID-19 Vaccine, Climate Change, and Critical Technologies are the 3C's
QUAD is also targeting one more "C" which is China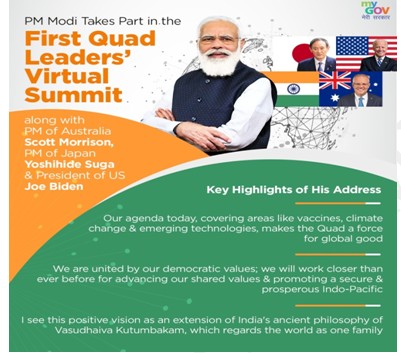 A booster shot for India's vaccination plan

More than a third of all vaccinations done in the world each day are in India.
But there is still many gaps to cover.
So far, India has vaccinated only 3.2% of the adult population.
India has identified a target of 300 million vulnerable populations.
If India can vaccinate 10 million people per day, the vulnerable can be protected over the next two to three months.
But with the present trained vaccinators, India can only vaccinate nearly 3 million people per day.
To have a sustained campaign of 10 million doses per day, India will need to have a reasonable stockpile and production line of vaccines.
Way Forward

By expanding participation by private health facilities, it would be possible to cover more than 7 to 10 million doses per day.
To overcome vaccine shortage, India needs to approve EUA (Emergency Use Authorization) for other vaccines which are available internationally with established efficacy and safety.

The ongoing arrangement with Russia for local production of Sputnik while the vaccine is already undergoing clinical trials in India is an excellent template of using Indian companies to roll out other vaccines.

Simple age-based criteria should be used to expand vaccination without restrictive criteria such as insisting on a medical certification of co morbidities.
Simple, offline, walk-in vaccination should be done with paper based collection of details and this can be followed by uploading the details onto CoWIN.

India's reputation as a world leader in vaccination programmes needs to be strengthened further by addressing these issues swiftly.
Mines and Mineral (Development and Regulation) Act – MMDR Act

Lok Sabha on Friday passed a Bill to amend the MMDR Act
Passed through Voice Vote.
Mines Minister said that the amendments will create jobs and allow private players with enhanced technology into the mining sector.
The mining sector right now contributes 1.75% of countries GDP, the proposed reforms will raise the contribution to 2.5%, Minister said.
The bill removes distinction between captive and non-captive mines

Captive mines are those that produce coal or mineral for exclusive use by the company that owns the mines.
Non-captive mines are those that produce as well as sell the fuel

Now captive mines will also be able to sell their stock.
The new bill will introduce a n index based mechanism by developing a National Mineral Index (NMI) for statutory payments.
National Mineral Exploration Trust (NMET) will be made into an autonomous body.